What Are Silicone Rubber Extrusion Profiles?
Silicone rubber extrusion profiles are made of high quality solid silicone or sponge foam silicone. We have the capabilities to provide standard or custom profiles, tubing, gaskets, seals, cord, strips, insulation wrap and other various types of custom silicone extrusions. We are experts in the manufacture silicone rubber extrusion profiles. Our silicone rubber extrusion profiles are commonly used in applications such as noise control, sealing, vibration, impact protection and decorative trim.
We make custom silicone rubber extrusion profiles which can be utilized in different industrial mechanical applications. Because of silicone rubber's high performance and capacity to work in the high as well as low temperature weather conditions make it more suitable to utilize for different industrial sealing applications. Our silicone rubber extrusion profiles, gaskets and seals can provide protection against high temperatures, chemicals, weather, dampness, corrosion, fungus, ozone and offer extraordinary adaptability.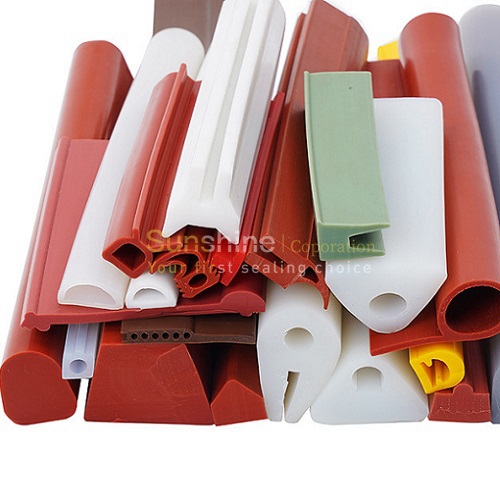 Typical Applications of Silicone Rubber Extrusion Profiles
Silicone rubber extrusion profiles are perfect for automotive gasket seals, aerospace and military gasket seals, meat processing as hatch Seal, chamber Seals.
Silicone rubber extrusion profiles are used for lighting construction such as door seals, window seals, protective seals between glass and steels. It also can be used for dairy Fluid Handling Tubing and Dairy Seals, Electronics washers, spacers and seals, Oven and manway seals, High temperature sealing, HVAC equipment – wire seals, sealing chambers conditioning.
Silicone Rubber Extrusion Profiles Grades
Silicone rubber extrusion profiles grades can be commercial Grade and Industrial, High and Low Temperature range, Steam Resistant, Platinum and Peroxide Cured grade, Flame or Fire Retardant grade, High Strength and General Purpose grade, and it also can be FDA grade.
Key Features of Silicone Rubber Extrusion Profiles
• Temperature: -60°C up to +200°C (Higher temperature grade available).
• Anti friction treatment available on various grades.
• Custom profiles can be manufactured.
• Any RAL colour is available.
• Good UV resistance.
Why Use Silicone Rubber Extrusion Profiles?
Over the years, silicone rubber has become one of the most popular extrusion materials on the market. There is a reason for why use Silicone rubber extrusion profiles, the silicone rubber has so many amazing benefits that make it phenomenal for a huge range of different industries and applications.
Silicone Has Good Heat Resistance
Silicone rubber has a huge temperature range that allows the material to withstand and perform effectively at temperatures as low as -70°c to as high as 305°C.
Sterilisation and Safe
Silicone's non-porous nature means that it is not susceptible to a buildup of bacteria. This makes it perfect for use in industries such as food and medicine. It is also an FDA-approved material.
Silicone Has Low Chemical Reactivity
Silicones, silicone to oxygen backbone means that it has a very low chemical reactivity when compared to other materials. This makes it the perfect material to use in any application where chemicals could be present.
Silicone Has Versatility
Silicone rubber's many unique benefits make it perfect for use across a huge variety of industries, applications and environments. It can be used across far more applications than most other rubber materials.
The Silicone Products Profiles We can Make
| | | | |
| --- | --- | --- | --- |
| T-sections | Bubble Seals | Silicone Sponge Cords | E-sections |
| H-sections | Silicone Strips | Silicone Mushroom Profile | Hollow D-sections |
| Hollow Strips | Keyhole Sections | Silicone Interlock Profile | P-sections Large |
| Silicone Tube | Omega Sections | P-sections (Double) | P-sections Large |
| Silicone Rubber Tubing | P-sections Medium | P-sections (Small) | P-sections Solid |
| Solid D-sections | Solid Square Sections | Silicone Extrusions | Strip Sections |
| Autoclave Seals | Tadpole Sections | U Channels Large | Adhesive Back Seals |
| U Channels (Small) | U channel Round | Window Seals | Trapeze Sections |
| U Channels Medium | U Channels (Clip-on) | Inflatable Seals | Triangle Seals |
| Silicone Cord | Tank Seals | L-sections | Sieve Seals |